Legal Services Pattaya - Your Trusted Notary Public In Pattaya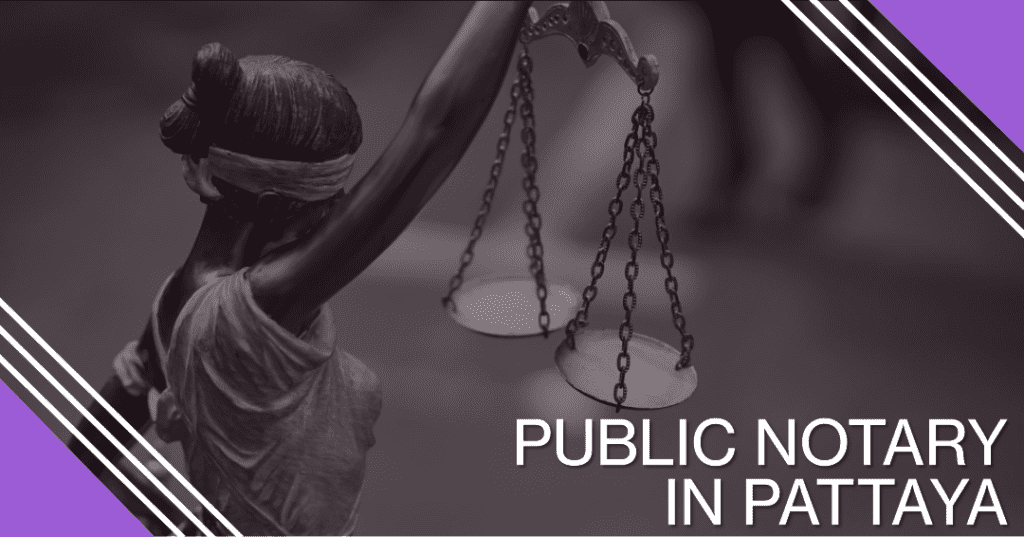 When it comes to legal matters, especially those requiring notary public services, Legal Services Pattaya is your go-to lawyers in Pattaya. We specialize in providing expert notarial services in Pattaya and are committed to assisting you with professionalism and efficiency.
Pattaya Notarial Services Attorney
In many countries, a notary public is a licensed legal professional authorized by the government to authenticate signatures, validate documents, and oversee affidavits or sworn statements. Notarization of documents plays a crucial role in establishing document authenticity and confirming the identity of the signatory.
While Thailand doesn't have a conventional notary public system, certain Thailand lawyers, known as notarial services attorneys, are authorized to fulfill this role under the regulation of the Lawyers Council of Thailand. These attorneys undergo comprehensive professional training in notarial services before they can be registered.
At Legal Services Pattaya, our notarial services attorney in Pattaya can assist you with a range of services, including:
Certifying Copies: We can certify copies of legal documents, ensuring their accuracy and reliability.
Signature Authentication: Our expert team verifies and certifies the authenticity of signatures on documents.
Formal Oaths: We record statements made under formal oath, adhering to legal requirements.
Oath Administration: Our professionals can administer and document oaths for various purposes.
Identification Certification: We provide certification of identification for individuals when required.
Notarization of Documents: Our services extend to notarizing various documents like power of attorney for international use.
Notary Services at Foreign Consulates in Pattaya
Pattaya boasts foreign honorary consulates from Austria, Finland, Germany, Kazakhstan, Norway, Romania, Russia, Sweden, Ukraine, and the UK. These consulates may offer notarial services to their citizens, including the certification of passport copies. However, it's advisable to inquire with the respective consular office regarding the availability of specific services, as some may only be provided by their embassy in Bangkok. In cases where foreign consulates in Pattaya cannot meet your notarial service needs, you can rely on Legal Services Pattaya to certify your documents, especially when they will be used within Thailand.
Legalization at the Thailand Ministry of Foreign Affairs
Thailand is not a party to the Hague Convention Abolishing the Requirement for Legalization for Foreign Public Documents (or Apostille Convention). Therefore, if you need to authenticate or certify a document originating outside of Thailand or one intended for use in another country, it may require legalization by the Ministry of Foreign Affairs. Legalization is the crucial process by which a document is validated for international use.
Legal Services Pattaya Notary Public Services
At Legal Services Pattaya, our notary public services extend to various types of legal documents for use within Thailand and abroad, including:
Private Contracts and Agreements
Power of Attorney for Domestic and International Use
Certified Copies of Documents
Copies of Passports or Identification Cards
Certificates (Birth, Marriage, Divorce, and Educational)
Bank Documents and Letters
Property Documents for Domestic and International Use
Legal Documents for International Use
Additionally, we offer notarization services for corporate and business documents, encompassing:
Corporate Power of Attorney
Company, Director, and Shareholder Documents
Affidavits, Statements, or Declarations
Legal Translations
Certificates of Identity for Directors or Company Officers
Certificates of Company Good Standing
Memorandum and Articles of Association
Company Resolutions, Meeting Minutes, Contracts, and Reports
When you need a reliable, efficient, and cost-effective notary public service in Pattaya, Legal Services Pattaya is your trusted partner. Feel free to contact us for any further inquiries or assistance.